Aspirin Therapy Causes More Harm Than Good
Posted by John Coppola on 15 May, 19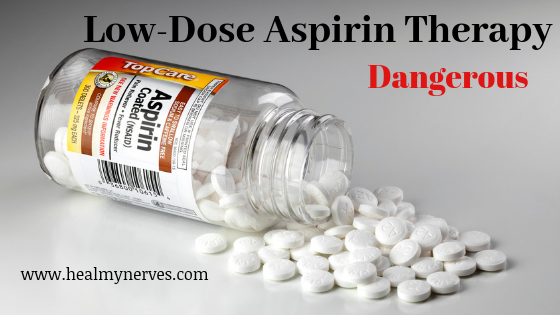 Low-dose aspirin therapy (81 mg) has been the long standing recommendation to lower your risk of heart attack. It's estimated that 1 in 3 adults in the U.S. currently take a baby aspirin or equivalent to reduce their risk of heart attack.
The medical rationale for this recommendation is that aspirin slightly decreases clot formation in your blood…emphasis on the word 'slightly'.
Now, a number of studies have refuted the benefits of low-dose aspirin therapy (taking low-dose aspirin, daily). These studies have shown that low-dose aspirin therapy may do more harm than good.
In fact, in 2014 the FDA even reversed its stance on daily aspirin therapy, noting:
"FDA has concluded that the data do not support the use of aspirin as a preventive medication by people who have not had a heart attack, stroke or cardiovascular problems, a use that is called 'primary prevention.'
In such people, the benefit has not been established but risks — such as dangerous bleeding into the brain or stomach — are still present."
Aspirin Increases Your Risk of Internal Bleeding
Studies listed on Green Med Info show that aspiring use is connected with the onset of 51 different diseases.
The most well-known side effect of taking aspirin is bleeding. This is because regular use of even low-dose aspirin can interfere with your platelets (blood cells responsible for clotting). According to one scientific article, long-term, low-dose aspirin therapy may double your risk for GI (gastro-intestinal) bleeding.
Routine use of aspirin has been associated with the following problems:
Bleeding, especially in the GI tract
Duodenal ulcers
Diverticular disease
Increased risk of breast cancer
Increased risk of kidney disease and kidney failure
Cataracts
Hearing loss
Ringing in the ears (tinnitus)
In fact, there are studies listed on Green Med Info showing aspirin's connection with 51 different diseases! The most well established side effect of aspirin is bleeding, which results from aspirin's interference with your platelets—the blood cells that allow your blood to clot. According to one scientific article, long-term low-dose aspirin therapy may DOUBLE your risk for gastrointestinal bleeding.
Does aspirin prevent heart disease or stroke?
For many decades, doctors have known about GI bleeding and other risks of aspirin but they've always touted that preventing a heart attack, supersedes the other risk factors….or does it?
Research published as far back as 2004 in the American Heart Journal, along with current research coming out of the United Kingdom (UK) has concluded that taking an aspirin a day to prevent heart disease or a stroke is not worth it. Any benefits are far outweighed by the risks that it may trigger life-threatening bleeding.
Furthermore, the painkiller increases the risk of major, life-threatening bleeding by nearly 50 per cent, and yet has only a marginal protective effect against heart disease.
Researchers from King's College London state, "The risks just aren't worth it". They discovered that the drug only reduced the risk of cardiovascular (heart) disease by a mere 11 per cent, and yet raised the risk of major bleeding by 43 per cent. This means that one out of every 200 people regularly taking an aspirin would suffer a major, and potentially life-threatening, bleed.
The researchers also couldn't find any evidence to support claims that aspirin helped reduce the risk of cancer. People who were regularly taking the painkiller were just as likely to develop cancer and die from the disease, they found.
Insights:
For years, low-dose aspirin has been described as a panacea to ward off heart attacks, strokes and other cardiovascular disease. For the past 10 years I have been informing my patients of the horrendous risks with using low-dose aspirin therapy. This has been a huge mountain to tackle, while their cardiologist and family medicine doctors are saying the opposite. I am thrilled for the sake of my patients and countless others that numerous research studies on the dangerous side-effects of low-dose aspirin are finally coming to light.
Recommendations for a Healthy Heart
Always remember your heart health is dependent on your lifestyle choices…not aspirin. The key to prevent and even reverse heart disease is to use a combined approach for physical and emotional health.
To optimize your heart health and reduce the risk for a cardiac event, incorporate the following lifestyle factors:
Eat real, whole foods
Avoid processed food
Avoid or limit grains
Avoid preservatives, additives, and artificial sweeteners
Limit your fructose intake to less than 25 grams per day (high fructose intake is directly linked to cardiovascular disease)
Take 2000 mg of a high quality animal based Omega 3 fats (fish oil, krill oil)
Make sure your vitamin D levels are between 60 ng/mL – 100 ng/ml (blood test)
Get between 7-8 hours sleep, nightly
Exercise for at least 30 minutes a day - 5 days a week
Drop the excess weight
Maintain healthy glucose levels (70 – 90 mg/dL fasting)
Maintain healthy iron levels (Ferritin 40-50 ng/mL)
References
JAMA, 2019; 321: 277-87
Preventing Atherosclerotic Events with Aspirin, British Medical Journal, January 12, 2002: 324(103); 71, Dr. John G. F. Cleland.
Collaborative Meta-analysis of Randomised Trials of Antiplatelet Therapy for Prevention of Death, Myocardial Infarction, and Stroke in High Risk Patients, British Medical Journal, January 12, 2002: 324(7329); 71-86,
Prior Aspirin Use and Outcomes in Acute Coronary Syndromes, Journal of the American College of Cardiology, October 19, 2010: 56(17): 1376-85, Jonathan D. Rich, et al.
A Randomized Trial of Low-Dose Aspirin in the Primary Prevention of Cardiovascular Disease in Women, The New England Journal of Medicine, March 31, 2005: 352(13); 1293-304, Paul M Ridker, et al.
Aspirin for Primary Prevention of Cardiovascular Events in People with Diabetes: Meta-Analysis of Randomised Controlled Trials,British Medical Journal, November 6, 2009: 339; b4531, Giorgia De Berardis, et al.
Aspirin Increases Mortality in Diabetic Patients without Cardiovascular Disease: A Swedish Record Linkage Study,Pharmacoepidemiol Drug Safety, December 1, 2009: 18(12); 1143-9, Lennart Welin, et al.
Role of Aspirin in the Primary Prevention of Cardiovascular Disease in Diabetes Mellitus: A Meta-Analysis, Expert Opinion on Pharmacotherapy, June 1, 2010: 11(9); 1459-66, Naveed Younis, et al.
Aspirin for Primary Prevention of Cardiovascular Disease?, Drug and Therapeutics Bulletin, November 2009: 47(11); 122-5.
Evaluation of Small Bowel Blood Flow in Healthy Subjects Receiving Low-Dose Aspirin, World Journal of Gastroenterology, January 14, 2011: 17(2); 226-30, U. Nishida, et al.
This blog has been provided by Dr. John Coppola, D.C. and Dr. Valerie Monteiro, D.C. Dr. Coppola and Dr. Monteiro are the founders of the San Antonio Neuropathy Center, and Precision Sport & Spine. They are the leading experts in the field of neuropathy and specifically drug free nerve repair. They are the authors of the critically acclaimed book "Defeat Neuropathy Now .... In Spite of Your Doctor. The doctors have over 25 years of clinical experience.
If you would like to reach the doctors regarding a specific health problem, you may email them at info@bodiesrebuilt.com.
---