The Opioid Epidemic
Posted by John Coppola on 24 Jan, 19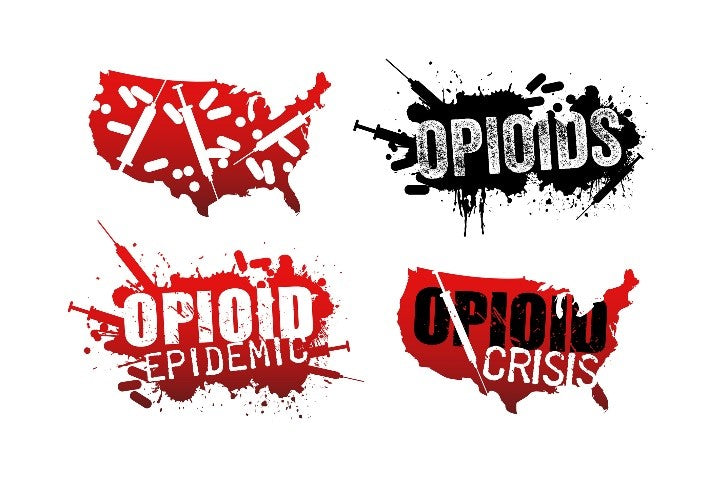 More than 30 percent of Americans are living with some form of chronic or severe pain. As a matter of fact, more people live with chronic pain than the combined total of cancer, heart disease, and diabetes patients.
As a result, opioid addiction and overdose rates have skyrocketed, becoming a full-fledged public health emergency.
Opiates are narcotic pain relievers that contain either natural or synthetic opium. They are among the strongest medications prescribed by doctors, today. Although opiates are very effective painkillers, they are also highly addictive.
In fact, opioid addiction can occur in as little as 8 days of taking this prescription narcotic.
Even with these current statistics, opioid prescriptions are still given out by the droves. Statistics from the National Institute of Health revealed that over 250 million opioid prescriptions are written every year.
NUMBER OF OPIOID PAINKILLER PRESCRIPTIONS
259,000,000 prescriptions written yearly for painkillers
1 out of 3 Americans take a painkiller (statistic 2015) 
Opioid abuse has been called the deadliest drug epidemic in U.S. history resulting in 49,000 deaths from overdoses.
The Rise of the Opioid Epidemic
Opioid prescriptions increased in 1995 with Purdue Pharma's introduction of OxyContin to the market, Annual Review of Public Health reported.
"Between 1996 and 2002," the journal noted, Purdue "funded more than 20,000 pain-related educational programs through direct sponsorship or financial grants and launched a multifaceted campaign to encourage long-term use of opioids for chronic non-cancer pain."
In 2007, Purdue "pleaded guilty to federal charges that they misled doctors and patients" and paid more than $600 million in fines. Unfortunately, this is a small drop in the bucket for the company that has made BILLIONS of dollars from the sales of opioids.
Purdue was one of many drug manufacturers pushing the sales of opioids. In fact, the pharmaceutical industry's aggressive marketing of opioids led to a quadrupling of such prescriptions between 1999 and 2010.
A Washington Post and 60 Minutes investigation also found evidence that pharmaceutical companies helped shape and lobby for a law passed by Congress that undermines the Drug Enforcement Administration's (DEA) authority to stop opioids from flooding into the market.
Opioids affect celebrities and more…
In 2017, Opioid overdoses claimed the lives of Mac Miller, and Tom Petty. The year before, in 2016, we lost Prince to an accidental overdose of opioids, but it doesn't stop there. We've also lost many great entertainers due to opioid overdoses and still more have been victims of addiction.
Celebrities Deaths from Opioids:
Mac Miller
Tom Petty
Prince
Michelle McNamara 
Philip Seymour Hoffman
Heath Ledger
Michael Jackson
Elvis Presley
Celebrities Addicted to Opioids:
Rush Limbaugh 
Carrie Fisher
Nicole Richie
Winona Ryder
Mathew Perry
Kelly and Jack Osbourne
Jamie Lee Curtis
Chevy Chase
Eminem
Courtney Love
Charlie Sheen

Opioid addiction commonly seen mainly among celebrities has now become readily available to the public at large. Every day, more than 115 people die in the U.S. from opioid overdose. Opioid misuse, and addiction (including prescription pain relievers, heroin, and synthetic opioids such as fentanyl) is a serious national crisis that affects public health as well as social and economic welfare.
The Centers for Disease Control and Prevention (CDC) estimates that the total "economic burden" of prescription opioid misuse alone in the United States is $78.5 billion a year, including:
Healthcare costs
Lost productivity (work)
Addiction treatment
Criminal justice involvement.2
Commonly Prescribed Opioids
Since, opioid prescriptions are readily available from doctors, it's important that you know if you are being prescribed an opioid for pain relief.
Here's a list of commonly prescribed opioids:
buprenorphine
butorphanol
codeine sulfate
fentanyl
hydrocodone bitartrate
hydromorphone
levorphanol tartrate
meperidine hydrochloride
methadone hydrochloride
morphine sulfate
oxycodone
oxymorphone
tapentadol
tramadol
INSIGHTS
>Regardless of age, far too many physicians are quick to prescribe opioids for pain relief. Statistics clearly show how dangerous these pain killers are. Not only can they lead to accidental overdose but we see that addiction can begin in as little as 1 week of use.
Pharmaceutical drugs are not the only path to pain relief. It's become extremely important to look for 'All-Natural' methods of pain relief that don't lead to addiction or pose dangerous risks. Many herbs and essential oils are extremely effective in relieving pain without posing risk of addiction or side effects.
In our clinic, one of the biggest defenses we use against nerve, muscle and joint pain is a formulation of essential oils.
The following essential oils (EO) have been found in clinical studies to effectively diminish and abate pain and spasm from nerve disorders like peripheral neuropathy, Muscle spasms, sprains and strains, joint pain and even headaches:
Essential oils are both effective and safe for pain relief, which is why we use them in our Rapid Relief Pain Formula cream. This cream is all-natural, smells great and is a safer alternative for pain relief.
In our formulation we also complex Glucosamine and MSM to support joint cartilage regeneration and maintain elasticity of joint tissue. You'll also find Aloe vera juice and oil in this formulation to further reduce pain and inflammation.
Stop taking dangerous pain meds and switch to a safe and effective cream. Stock up for the holidays and enjoy a 20% discount of Rapid Relief Pain Cream.
---