Delicious Kale Chips – Move Over Potato Chips
Posted by John Coppola on 17 Feb, 18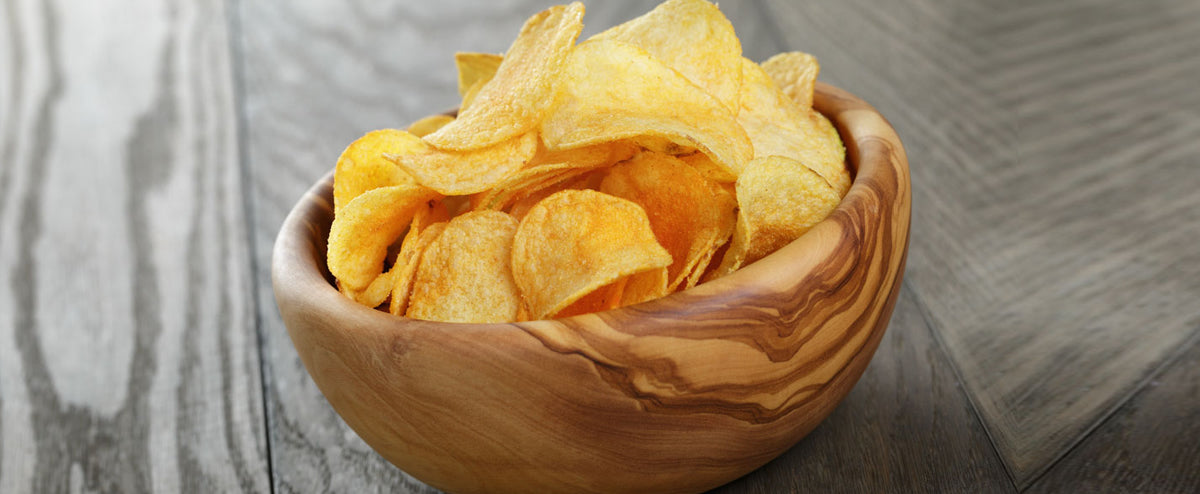 Whether you eat them on a casual day at home or serve them at a party, you can guarantee that almost anyone will enjoy munching on chips. Unfortunately, most chips nowadays are made with genetically engineered (GE) ingredients and mixed with trans fats and other artificial components.
Fortunately, you can still get your fix of delicious and crunchy chips without the health risks. This Simple and Crunchy Kale Chips Recipe, shows you that there's more to kale than just salads and smoothies. With the right spices, you can transform ordinary kale into chips that are sure to pack a flavorful crunch (pun intended).
Count on Kale to Deliver Potent Health Benefits
Leafy green vegetables are some of the best foods that you can give to your body, and kale is a perfect example. Although its health benefits were just recently known compared to other vegetables, kale has proven itself to be a nutritional powerhouse.
One cup of kale alone may already be enough, as it was shown that this leafy green contains 684 percent of the daily value of vitamin K, 206 percent of the daily recommended amount of vitamin A and 134 percent of vitamin C. Minerals like iron, protein and calcium are present in this vegetable too.
The health benefits of kale do not stop with these nutrients. Kale also contains important healthy omega-3 fats that were shown to assist in regulating blood clots, building cell membranes in the brain, shielding you from heart disease and stroke and fighting off autoimmune diseases. Kale is also a very good storehouse of antioxidants, with three standouts in particular that you should take notice of:
Indole-3-carbinol: helps with DNA cell repair and slowing down cancer cell development
Sulforaphane:assists in protecting against prostate and colon cancers, eases lung congestion and benefits the stomach, liver and immune system
Lutein and zeaxanthin: aids in protecting the eyes against macular degeneration
Lastly, kale was also shown to possess anti-inflammatory capabilities. These are important, especially when it comes to the prevention of heart disease, arthritis and other autoimmune diseases.
Coconut Oil: Reap the Benefits of This Extraordinary Oil
In order for processed chips to become crispy and crunchy, manufacturers typically use vegetable oils and trans fats, two ingredients that can devastate your health. Use coconut oil instead for recipes like this. Not only will your dishes have that distinct coconut flavor, you will get great health benefits too.
The bulk of the health benefits of coconut oil can be attributed to two substances found in it. The first is called lauric acid, with coconut oil actually containing the most lauric acid out of any substance on earth.
Once your body ingests lauric acid, it is then converted into a monoglyceride called monolaurin, which was proven to be effective in fighting antibiotic-resistant bacteria strains. Monolaurin has antifungal and virucidal effects against other viruses and protozoa, too.1
Medium-chain fatty acids (MCFAs) are the second vital substance present in coconut oil. Unlike long-chain fatty acids (LCFAs) in vegetable oils, these MCFAs are known to be easily digested and could readily cross cell membranes. Moreover, these are quickly converted by the liver into energy instead of being stored as fat.
Coconut oil also works as an energy booster, since it is easy on your digestive system and does not trigger an insulin spike into your bloodstream. Other known positives of coconut oil include:
Promoting heart health
Enhancing Immune System function
Increasing and maintaining brain function
Enhancing thyroid function & metabolism
Maintaining skin health and elasticity
Kale Chips Recipe
Cook time: 15 min
Servings: 4
Ingredients:
6 cups of torn and de-stemmed curly kale
2 tsp. coconut oil, grass fed organic butter or ghee
¼ tsp. Himalayan salt
1-2 tsp. nutritional yeast, or to taste
Optional: 1 pinch sweet or smoked paprika
Directions
Wash and spin dry the chopped, de-stemmed kale. It's important that the kale is completely dry before baking.
Toss together the kale and coconut oil. Massage together with your hands until every leaf is coated
Sprinkle on salt, nutritional yeast and any seasoning you will be using. Toss again to evenly distribute.
On a parchment-lined baking sheet, arrange the kale evenly without crowding or overlapping.
Bake in a 300-degree Fahrenheit oven until crisp and dark green, approximately for 12 to 15 minutes.
Cool completely before eating. This will allow the chips to crisp up further while cooling.
Tip:
Spice these kale chips up with your favorite flavors, such as chili powder, garlic powder, onion powder or my personal favorite – Mexican Fiesta by Frontier (spice blend).
Don't like Kale...don't worry!  You won't even realize it's kale that you're eating.  This decadent snack really will help you kick the habit of chips and other crunchy processed junk food.  It's easy to make, tastes great and has the following benefits:
Kale is low in calories and high in fiber
Kale is high in Iron
Kale is high in vitamin K
Kale is high in vitamin A & C
Kale is high in vitamin Calcium
Kale is loaded with powerful antioxidants
It's a great anti-inflammatory food
Supports brain development in infants
Supports eye health
Kale is a great detox food
This blog has been provided by Dr. John Coppola, D.C. and Dr. Valerie Monteiro, D.C. Dr. Coppola and Dr. Monteiro are the founders of the San Antonio Neuropathy Center, and Precision Sport & Spine. They are the leading experts in the field of neuropathy and specifically drug free nerve repair. They are the authors of the critically acclaimed book "Defeat Neuropathy Now .... In Spite of Your Doctor. The doctors have over 25 years of clinical experience.
If you would like to reach the doctors regarding a specific health problem, you may email them at info@bodiesrebuilt.com.
Sourced through Scoop.it from: recipes.mercola.com
---